Mobile Check Deposit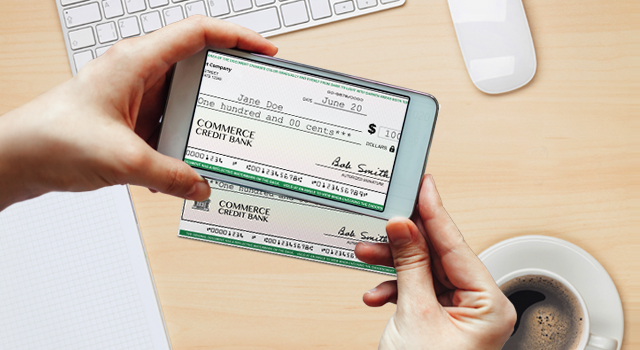 How do I sign up?
By signing up for Mobile Banking through our Online Banking system and having a compatible mobile or tablet device.
How does it work?
In the Mobile App, select the Deposits icon. Choose deposit to account, enter the amount of the check, snap photos of the front and back of the endorsed check and submit the deposit. Sign your check as it is made payable to you and endorse the check " For Deposit Only ". You will be asked to verify your entries before completing your deposit. If your check is not endorsed properly, we cannot accept it through Mobile Check Deposit.
What is the cost?
We do not charge for mobile deposits, but your mobile carrier may charge fees depending upon your plan.
What is the dollar limit on deposits?
You can deposit up to $2500 per day.
What types of checks can I deposit?
Personal or business checks payable to you in US Dollars.
What types of checks cannot be submitted?
Foreign checks, traveler's checks, savings bonds, money orders, checks not payable to you, illegible or unreadable checks, stale date (6 months or older), postdated checks, altered or non-negotiable marked checks.
How do I know my deposit made it?
Deposits made and accepted by the system before 3 pm Central time will post that business day. Users are notified immediately of valid deposits, while poor images and duplicate deposit attempts are rejected. In addition, you can use the Services to review deposit activity in your account and see immediately that a deposit is being made.
What do I do with the check itself?
Once you have deposited the check successfully, you should keep the check in a safe place. Be very careful not to accidentally present your check a second time for deposit at the bank or another location. Confirm your deposited funds have been applied to your account correctly, reconcile your deposits to your monthly bank statement, and only then, shred the check and dispose of it safely.
Other Mobile Check Deposit Tips
Make sure that all other apps running in the background are closed.
Verify that the back of your check is signed (endorsed) and labeled "For Deposit Only".
Flatten folded or crumpled checks before taking your photos.
Keep the check within the on-screen corners when capturing your photos.
Capture the photos of your check in a well-lit area.
Place your check on a solid dark background before taking your photos.
Keep your phone's or tablet's camera flat and steady above the check when taking your photos.
Make sure that the entire check image is visible and in focus before submitting your deposit.
Make sure that the check amount entered matches the amount written on your check.